Monthly Archives: July 2018
With so many Americans jet-setting for vacations in far-off places and tropical beaches, you would think that the classic American road-trip is a thing of the past. But actually, it's not the case at all. Fuel prices keep airline tickets high and hotel rates skyrocket in the summer during peak months, so it's usually more cost effective for a family to hop in the car and take a road trip.  Statistically speaking, more than ever are American's hitting the road for trips and family visits – more frequently, but for a shorter period of time.
The adventure of a road trip lingers in the hot summer air, so enjoy every minute of your trip. Almost embedded in every American is the sense of adventure and excitement of traveling to a new destination, while seeing all the beauty the country has to offer.
Road Trip Tips You Won't Want to Miss
Check Your Fluid Levels
To stay safe on your journey, it's important to check your vehicle's fluid levels before hitting the open road.  Make sure your oil is clean (not thick and black) and topped off. Another fluid that may fly under the radar is coolant.  Especially in the summer, you want to prevent your vehicle from overheating while you're sitting in traffic or driving on hot open roads. It's no secret that visibility is critical while you're driving and can help prevent accidents, so be sure to top off your windshield wiper fluid. Bugs, rain, dust, and occasional bird droppings can lower your visibility and make it hard to see the road ahead of you.
Drive the speed limit
Nothing like a speeding ticket to put a damper on your vacation.  You can try, "But officer, I was driving with the flow of traffic" to talk yourself out of a speeding ticket, but most likely the state trooper who pulls you over won't be very happy to hear that phrase. Stay safe by driving the speed limit.  This is incredibly important when you are traveling on roads that are unfamiliar, because you may never know what kind of turns are ahead.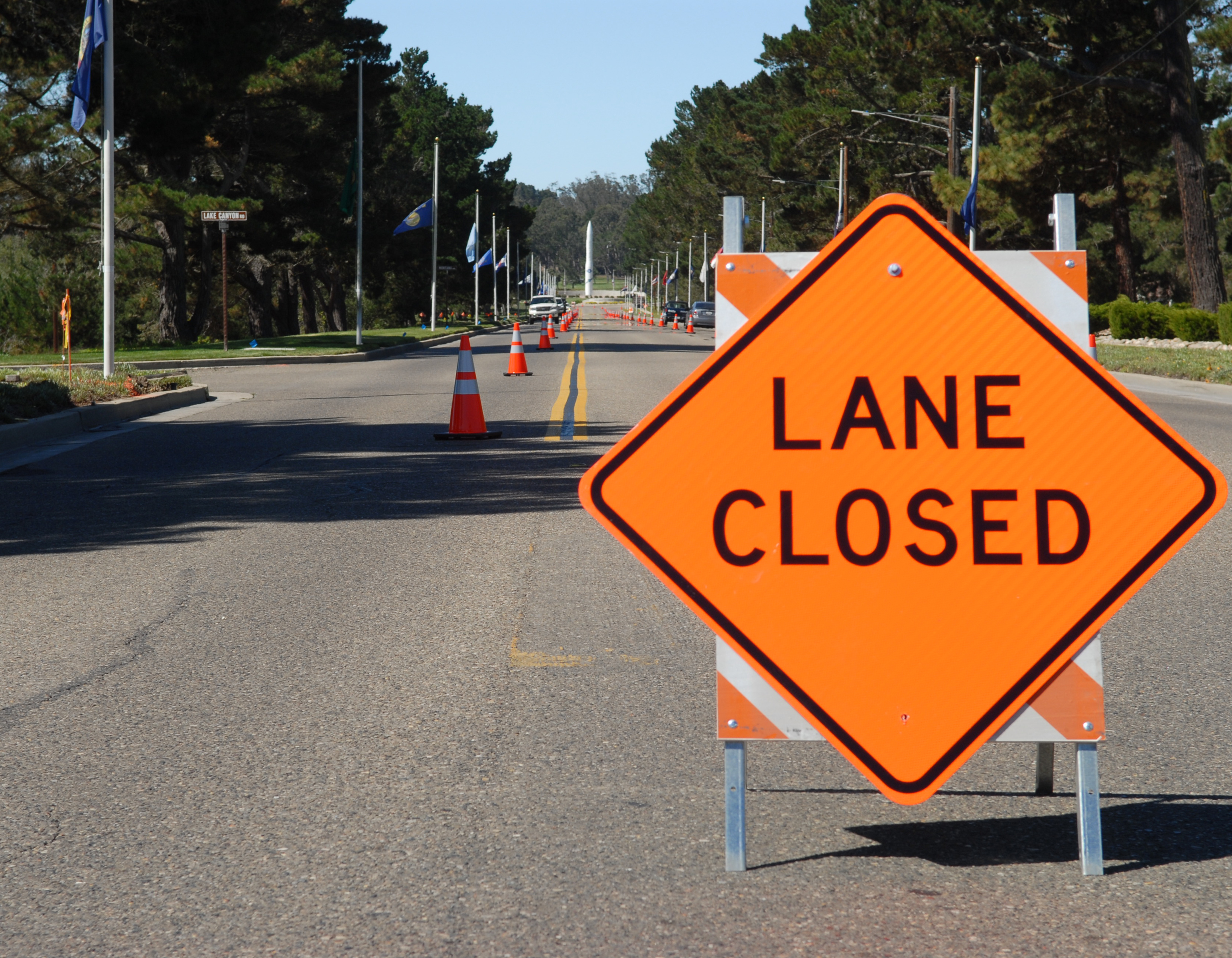 Watch for construction sites
In Maryland, we all know that highway construction is a never-ending project for the beltway around Baltimore.  It's inevitable that while driving to the beach or along I-95 through D.C. there will be a massive amount of road construction, and therefore, heavy traffic.  Plan ahead and account for extra driving time due to construction, road closures, and detours.
Don't ignore warning lights 
Even if you topped off your fluids and got your vehicle checked by a mechanic before your road trip, make sure you listen to your car.  Warning lights on the dashboard are not a suggestion, but should be taken seriously when you are putting a lot of miles on your tires. Your tire pressure indicator can help determine if you have a leaky tire, ran over a sharp object, or if the weather is affecting your tires.  Don't ignore your engine light – that can mean a lot of different things, but you'll want to stop and check it out as soon as you can so you don't damage your engine, overheat your vehicle, or cause larger issues. It should go without saying, but never ignore your gas light! In an unfamiliar city or town, you never know when you are going to see the next gas station, so fill up when you have the chance.  
Plan your stops
Planning your trip and knowing where you are going to stop along the way will help your trip go a lot smoother and will break up long legs in the journey.  Along the east coast, it's easy to plan meal breaks at a Cracker Barrell or Waffle House. But if you are travelling out west, look at maps and see what is available along your trip.  Planning a stretch break every couple hundred miles will make the trip seem less strenuous and prevent any accidents that are associated with exhaustion.
Clean Your Car Before you Leave
While this may not affect your car's ability to drive long distances, it provides a clean slate for your trip and gives you extra room for bags, car activities for kids, and everything can be stored away securely and safely.  Having loose items in your car can prove to be dangerous in an accident, because while you and your loved ones are safely buckled in, things like a tissue box, old cups, and random things in your backseat aren't – so when you stop short, there's the possibility that those items will go flying and can hit the driver or passenger.  
According to the Insurance Institute for Highway Safety, "more people die in motor vehicle crashes on Independence Day than any other day of the year."
Death doesn't take a day off.  Dangers are mostly due to the increased amount of traffic on the roadways – an estimated 37.5 million people are projected to hit the road and jam the highways during this holiday weekend, according to the American Automobile Association (AAA). This increased risk is partially due to the fact that the 4th of July is often a "4-day weekend" with frequent travels to the beach and warm getaways.  
While driving under the influence is often the biggest culprit when it comes to auto accidents, experts say that there are other hazards associated with holidays that are equally as dangerous.  
Holiday Driving Hazards
Crash, Boom, Bang!
Of Fireworks
It's no secret that there are an abundance of Firework displays on the 4th of July. After listening to the roar of fireworks, your ears may still be ringing when you get in the car and could potentially drown out the noise of sirens, horns, or other roadway sounds. Fireworks can also cause visual distortions for a short period, so it's recommended that if possible, you wait 20-30 minutes after the fireworks show to get in your car and drive.  
Not Getting Enough Sleep
Many travelers drive through the night to get to their destination, so it's common for drivers to get weary while driving.  It's also common for people to stay up late packing or getting up early to hit the road, which can impact the proper amount of sleep a driver gets the night before.  Not getting a full recommended 7 hours of sleep the night before nearly doubles your chances of getting in an accident.
If you are travelling a long distance, stop every 200-300 miles at a rest stop to get out and stretch or even take a cat-nap to refuel before continuing your journey.  Police reports that nearly 100,000 crashes per year are the results of driver fatigue.
Distracted Driving
Even if you think you are being safe driving "hands free," an AAA survey shows that sending text message using voice commands can be just as distracting as regular texting.  Getting distracted with visuals on your dashboard or console also prove to be highly distracting, and can take driver's attention away for up to 27 seconds. Even driving at 25 mph (about ⅓ the speed of most highway limits), that's long enough to travel up to the length of 3 football fields and plenty far enough to put you and other cars around you in danger.  
Using cruise control may not be the best idea either if you are travelling long distances because it can cause you to lose focus on the road and your surroundings.
Driving While Dehydrated
Spending time out in the sun, playing outdoor summer games of flag football or volleyball, and even having a beer or two at a BBQ can cause you be dehydrated in the summer heat.  July tends to be one of the hottest months of year and it's often difficult to tell when your body is dehydrated until it's too late.
Dehydration can mimic the effects of alcohol – its can slow down your reaction time and increase fatigue.
Driving Alone
Believe it or not, driving alone can decrease your road performance.  Your passenger is likely to help you stay focused by texting for you or taking phone calls instead of the driver.  Women are generally better at this, says Chris Hayes of Travelers Insurance, because women will speak up when they are driving in the car with a distracted driver.  Having another person in the car also means you can share the driving responsibilities, so there's less of a chance of driving while tired or distracted.
So if you are traveling on or around the 4th of July, be sure to get a good night's rest the night before, and stay hydrated and alert during your travels.  Even you are being safe, being aware of your surroundings is still incredibly important – other drivers may be driving while intoxicated or distracted.
Happy 4th of July!!!